Last week I was invited to the home of local Paonia residents Joan and Ron Beers, grandparents to my daughter's boyfriend Brandon Coble, for a family dinner. Brandon's parents, sisters, sister's boyfriend, sister's husband, uncle and aunt were there as well. (Stephen and Mary were out of town.)
Brandon has been serving our country in Baghdad for the past 8 months and has been home for an 18 day leave before returning to Iraq for another five months. Laura and Brandon have been friends for the past three years and have been dating long distance for the past 5 months. ( With Duane's permission.)
After dinner I was busy visiting with Uncle Rick and Grandpa Ron, and Mom Karen, while the grown children were enjoying a spirited word game called Probe. Apparently this game requires each contestant to spell out one word, and everyone takes turns guessing one letter, and as in Wheel of Fortune, if the letter is there, then the card is overturned and you can take a guess at the word.
All of a sudden Grandma Joan, comes into the room and says, "Marilyn I really think you need to see what's going on with this game."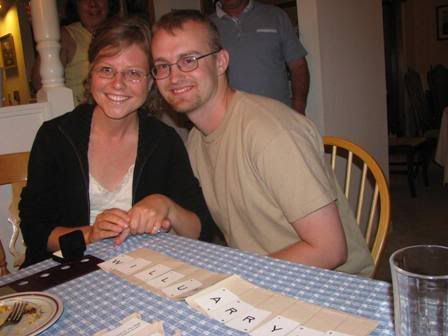 My reply was, "I don't do word games." But Grandma Joan insisted, "Marilyn! I REALLY THINK YOU NEED TO SEE WHAT'S GOING ON WITH THIS GAME IN THE KITCHEN!"
Meanwhile, my daughter Laura is calling, "MOMMY, MOMMY, MOMMY!" At this point, I realized I better get up and see what the commotion was all about. As I entered the kitchen I saw a sparkly ring upon Laura's ring finger.
It turns out Brandon's 15 letter "word" was really a phrase "Willumarryme". Look at the above picture carefully.
No one was getting Brandon's word, until Laura's turn, when she called out "l" and "m". Her startled and nervous response to the word/phrase was "ARE YOU SERIOUS?" At which point, Brandon got down on his knee in front of Laura and his family, and asked "Will You Marry me?" and Laura said "yes!" This is the point at which I discovered what all the commotion was about and that my daughter had just become engaged!
So, I am a very excited mom this week , although sad to not share the happy event with Duane. Duane had already decided before his death that he would give his approval to a winter wedding.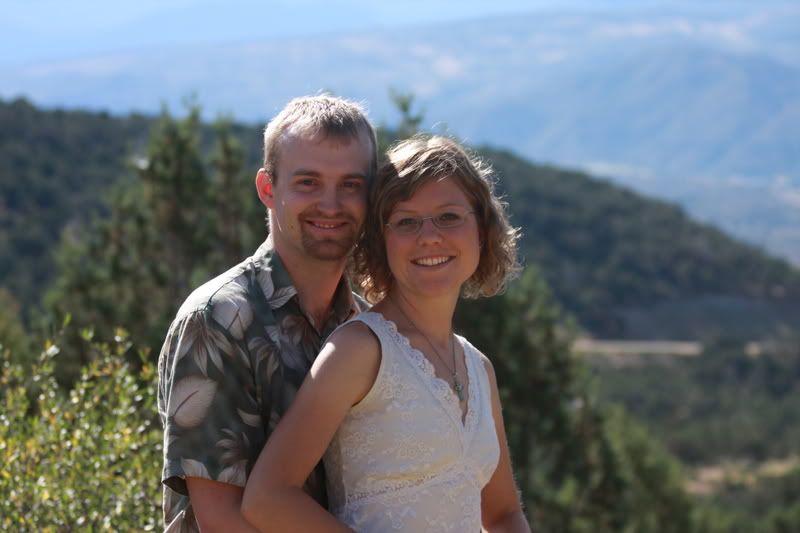 So shouting from the roof tops, I am pleased to announce my daughter, Laura's, engagement to Brandon Coble for a January 3, 2009 wedding. More details and pictures will be at my blog, marilynmollcom as soon as I get to it.
Now, I'll admit I shouldn't have been too surprised because Brandon had asked for my permission to marry Laura before Laura received the ring. Nevertheless, I really didn't know when, where and how this special event would happen, nor did I expect to get to participate in the excitement! God has been so good t o us.
Please be sure to be praying for Brandon and the thousands of other troops deployed in Baghdad and around the world.