My oldest daughter Laura departed on the first leg of her trip to Iraq Sunday evening and arrived very early Wednesday morning. I couldn't resist the opportunity to post the picture of her team. She is the gal in the middle. She is a gifted writer, I hope you will enjoy her update. The part about her mom doing fabulously is debatable. If you would like to be on her email update list contact me at marilyn@urbanhomemaker.com.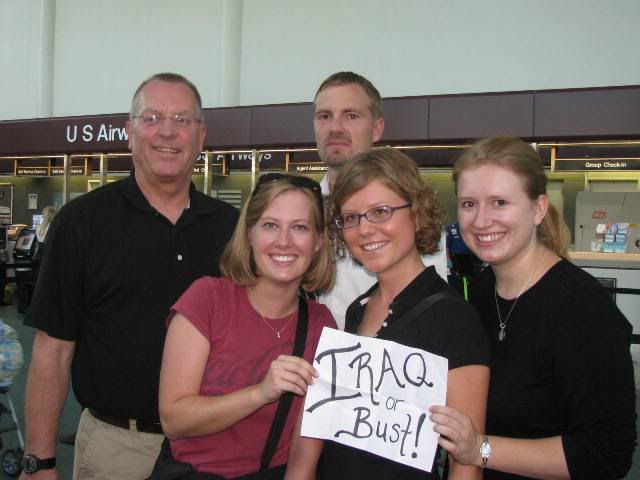 Sept 11, 2008
Dear Friends,
I recently heard the quote "plan to be surprised." While not an especially encouraging saying, it does bring comfort knowing that there have been enough people in the world who have been surprised by what life throws at them, that a quote was born. Life rarely plays out the way we plan, and so the best we can do is try to roll with the punches.
As you know, my dad passed away in April, certainly a surprise that my family and I did not plan for. And so I flew home from Northern Iraq to grieve with my family and do the best I could to help my mom re-establish some semblance of order and normality. My mom is doing fabulously, by the way, she does not feel fabulous, but she continues to hope in God and believe that despite overwhelming circumstances, God still has a good plan for her life.
Now, almost five months later, by God's grace, I have traveled back to Northern Iraq. The journey was long, multiple planes, multiple airports, multiple loadings and unloadings of baggage. My team and I arrived into our city at 3:30 a.m. Wednesday morning. Lightning flashed in the sky, lighting up the desolate mountains that surround the city. Rain pelted down, temporarily calming the ever present dust.
I have to admit that on the last leg of the journey, after 48 hours of traveling, on a plane where I was one of 8 females and surrounded by smelly men who had pushed and shoved their way onto the plane with little regard to those around them, I asked myself "Why am I here?"
As I rode along the bumpy streets of Northern Iraq at 4 a.m., I found the words to Switchfoot's song "Home" swimming in my head. "This is home. Now I'm finally where I belong." I thought about the zig-zag streets where traffic rules are a suggestion, the gray cement houses packed together, the daily power outages that last for hours at a time, the annoyance of men and women who have no reservations with openly staring. And I know why I am here.
I am here because these people are fearfully and wonderfully made in the image of God. Though I am separated from them by culture, we share the same Creator. These are people who are doing the best they know how to make their way in the world, to navigate the complexities of love, of God, and of their place in this world. Like you and I, these are people who are in desperate need of knowing the truth. Truth that transforms lives, that gives meaning to love, that gives us understanding of our place in the world.
Psalm 96:5 says "For all the gods of the peoples are idols, but the Lord made the heavens." What distinguishes our God from all other gods is that He creates. He has created you, He has created the Kurdish man selling vegetables down my street. May all of God's creation come to know that He is the creator.
So yes, I have returned to Iraq. I will only be here for a short time, because along with the grief of my dad's death, I was blessed to receive a marriage proposal this summer from my prince charming, Brandon Coble. So in just four months I will be Laura Coble. But I praise God that He has allowed me to return for a time, and I look forward to the future and being able to serve overseas with my husband. Please pray with me that I will be a blessing to these people, that I will be able to see their hearts, and that I will be a living testimony of the transforming power of God's truth.
Thank you for all your prayers and if you have any questions, please feel free to contact me! E-mails are a wonderful gift from home.
Because He Lives,
Laura
Laura took a Norwex Microfiber dust mitt with her, and has already been told she should have brought a crateful of them to combat the heavy, daily dusting that must be kept up.
Today we did a lot of driving, we drove into Halabja, one of the city that was chemical bombed by Sadaam in the 80's. The town had such a depressed feeling, it was rough. I was grateful to return to our own city where I don't think there is such an oppression. Halabja just felt so depressed, such a lack of hope, I could not bear to be there.
We drove very close to the border of Iran and could almost see across the border. The dust was so thick today, though, that we could only see the outline of the Iranian mountains that were probably just a mile away. It was good to drive around and see more of the surrounding area, area that is just incredibly desolate, just flat and rocky for miles and miles around. Evidently there used to be trees, but Sadaam also cut all of those down. There is lots of foreign money flowing in to help, but the Kurdish government is unfortunately very corrupt with money and so the aid is not reaching the people. I wonder what this land looked like before Saddam cut down all the trees, I wonder if it was not so desolate or dry and dusty.