This is what we had for lunch at Mentoring Moms the other day.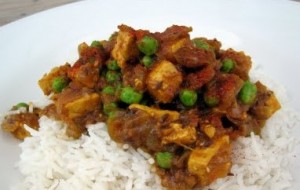 Everyone asked for the recipe because it is so easy and delicious.
This dish is also known as Pakistani Kima and is adapted from the More-With-Less Cookbook and everyone loved it.  Yummy!
A quick and easy hamburger curry the whole family will love.  Great use for leftover baked potatoes.
Saute in a skillet:
3 Tbsp coconut oil or butter
1 Cup onion, chopped
Brown 1 lb of hamburger or ground meat with the onion mixture
Stir in:
1 Tbsp curry powder
1 1/2 tsp salt
dash pepper, cinnamon, ginger, and turmeric, (cayenne if you like hot and spicy)

1 clove garlic, minced
1 – 14 oz can diced tomato or 2 Cups tomato
2 – potatoes,  diced
Cover the mixture and simmer for 25 minutes or until the potatoes are tender.
Add 2 cups petite peas or cut green beans. Heat through.  Serve with brown rice.
Garnishes: (Optional)
Diced green onions, or chopped cilantro, sour cream, diced cashews
Follow me at Facebook: http://www.facebook.com/urbanhomemaker
Follow me at Twitter: http://www.twitter.com/TheUrbanHome