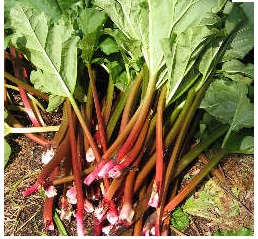 Rhubarb is now in season!   Here is a delicious, unusual twist on the traditional rhubarb pie since it contains eggs.
Now is the time to harvest rhubarb and freeze 1″ slices in 2 cup portions for quick and easy fruit desserts this summer or later in the winter. Try the no-fail pie crust – it is exceptional.
Rhubarb Cream Pie
1  1/2 Cups sugar
3/4 tsp nutmeg
4 cups rhubarb (1" slice)
2 Tbsp butter
1/4 cup flour
3 eggs, slightly beaten
Mix the sugar, flour and nutmeg by hand or in a mixer.  Beat in eggs.  Add the rhubarb.  Let the mixture sit while preparing the crust.  Line a 9" pie pan with the pie crust, fill the pie pan with the rhubarb mixture, dot with the butter.  Top with a lattice crust.  Bake at 400 degrees for 50-60 minutes.  Cover crust, if necessary to protect from excessive browning and make sure egg mixture is thoroughly set.
No Fail Pie Dough
This recipe is higher in fat than most pie dough recipes which discourages gluten development and makes for a very flaky,  delicious pie crust.  I got this recipe from my friend Jodie, who is an expert pie maker.
2  1/2 cups unbleached all purpose flour (I use one cup freshly milled pastry flour packed into the measuring cup)
1 tsp Real salt
2 Tbsp sugar
12 Tbsp very cold unsalted butter, cut into 1/4 inch slices
1/2 cup chilled Spectrum's natural shortening or regular shortening
1/4 cup vodka, cold ( or equivalent amount of water)
1/4 cup cold water (total of 1/2 cup liquid if not using Vodka)
Process 1 1/2 cups of the flour, all of the salt, the sugar in  Bosch mixer using short Pulses. (This is the  momentary feature.).  Add the butter and shortening and process until the dough is homogeneous or starts to make uneven clumps, about 15 seconds.  The dough will be similar to the curds of cottage cheese in consistency and all the flour will be absorbed.
Add the remaining one cup of flour and pulse until the mixture is evenly distributed and broken up – about 4-6 quick pulses.  Empty the mixture into a medium sized mixing bowl.
Sprinkle with vodka and water, or just water if not using the vodka.  The purpose of the vodka is to reduce the water content which promotes gluten formation.  (Any 80-proof liquor will work and the alcohol burns off during baking along with any liquor flavor.)  Remember this is an optional ingredient.
Using a rubber spatula you can use a folding motion to mix the dough until it is slightly tacky or sticks together.  Don't over mix pie dough or it becomes tough.
Divide the pie dough into 2 even pieces and flatten each into a 4 inch round.  Wrap each round in plastic wrap and refrigerate at least 45 minutes or up to 24 hours.