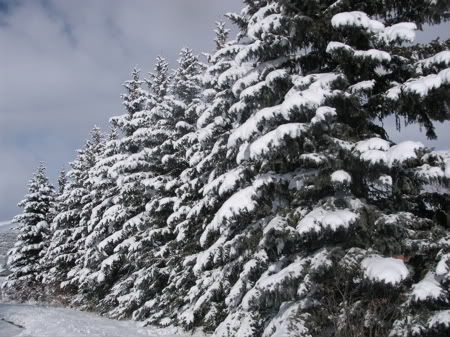 To do or not to do, that is the question!  To get a real tree or an artificial tree was the choice Mary and I wrestled with over the Black Friday week-end.  My late husband, Duane, insisted we decorate for the holidays with a REAL Christmas tree each year.
So one of our favorite family traditions, was Duane's willingness to take the children into the mountains, hike around in the snow until the "perfect" Charlie Brown tree was spotted, sawed down, dragged out of the woods and brought home.  After Duane was gone, my son Stephen and Mary took over the Christmas tree tradition.
However, this is the first year Mary and I had to figure out how to get a Christmas tree ourselves and without Stephen's help and the use of our beat-up, trusty old truck.  So we settled on scouting out the Black Friday bargain priced artificial pre-lit tree choices despite the feeling we were betraying tradition.
Mary found her ideal tree at twice the cost of our budget.  I found the best option that fit within our budget constraints was a much shorter tree than we had grown accustomed to.
I'm not going to lie, as my children say, I really wanted the "big tree" the closest thing to our real, tall, Charlie Brown tree of year's past.
Yet, I also felt desperately committed  to reconciling myself to live within our means and obtain a tree that I could actually lift the box by myself.  DECISIONS!  Little did I think this decision would create such an agonizing conflict within me that nearly caused me to turn around and march out of the store empty handed.
I have learned in the last few years, that after the loss of a loved one, life is not the same and I need to adjust to a "new normal".  This is much easier said than done.
My dear patient daughter Mary, graciously allowed me to discuss the pros and cons of the tree options even though her choice was clearly the opposite to my inclination.  And what mother doesn't want to please her children?
Finally I placed the budget pleasing choice into the buggy and trudged to the check out lane still not convinced I had made the best decision.  Surprisingly this tree's cost came to within six cents of my most optimistic expectation including the tax and barely fit into our car.
As Mary and I together slid the cumbersome box into the already loaded van for our long trip home, I marveled at God's goodness to provide the right tree, and the right price, at the right time.
As we got in the car, peace and gratefulness encircled my heart as I realized God had enabled us together to wrestle through one more "new normal".  God is so faithful and I praise him for that.
Perhaps your family is facing much bigger and more agonizing decisions this holiday season.  Let me encourage you to hold on to his precious promises of faithfulness.  Friend, you can count on Him.
"For the Lord is good; His lovingkindness is everlasting and His faithfulness is to all generations."  Psalm 100:5